UMORFIL® Bionic Fiber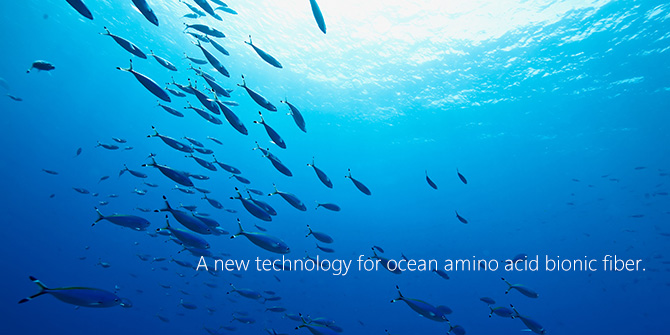 UMORFIL® Technology
"Bring comfort textile to a new level."
UMORFIL® is a new technology for amino acid bionic fiber. Its name originates from the combination of Latin"Umor"and French"Fil". Umor means moisture and fil means yarn. UMORFIL® proprietary technology is a supramolecular tech to integrate ocean peptide amino acid with textile materials like cellulose fiber or filament ingredients, create the bionic functional fiber series which provide the comfortable hand feeling and skin-friendly texture. UMORFIL® makes you feel more!
UMORFIL® Beauty Fiber®
UMORFIL® Beauty Fiber® was created to pursuit innovation in textile products that are skin-friendly and good for environment. It combines ocean collagen peptide amino acid with cellulose fiber through a technology known as supramolecular. It is a bionic fiber which are biodegradable and soft touch.
UMORFIL® N6UTM
N6UTM is a new type of nylon 6, which created by combining ocean peptide amino acid with nylon 6 and became the bionic nylon. N6UTM has better hand-feeling and excellent color fastness/deep dyeable.
UMORFIL® T
UMORFIL® T comes from a polymerization of ocean collagen peptide amino acid and polyester, become a supramolecular bionic poly, the manufacture process changes the molecular structure of poly, which make UMORFIL® T with champagne gold color naturally, has bionic feature and soft touch, also with better elongation.