Web page telephony breaks into the VOIP market as the
Camangi Web800 launches with web page audio value added services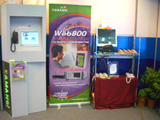 From June 6th to June 10th, the COMPUTEX TAIPEI 2006 exhibition takes place at the Taipei World Trade Center halls 1, 2 and 3, as well as at the Taipei International Convention Centre. With the arrival of an age of combined communications channels, the Internet communications exhibits are the highlight of the year. As, WiMAX, Gemtek, CyberTAN, LiteOn, Wollemi and other large and popular companies invest in Internet communications, it is estimated that starting in 2008 WiMAX equipment production will rise substantially, with a growing rate of consumption world wide. VOIP market growth has been surprising, with a 2 digit growth rate each year, slowly taking over from the traditional telephony system. Local producer Camangi is a pioneer in the field, bringing a brand new Internet communications model that aims at global users with the Camangi Web800 Click to Talk Internet communications service.
There are currently hundreds of instant audio communications software packages on the market, but they are always limited to communications between members, and require software installations on both sides in excess of 10MB. For businesses and communities that want to expand operations and customers, there are also concerns about safety and bandwidth. Therefore, local companies are circumspect about allowing employees to use instant messaging and audio communications software.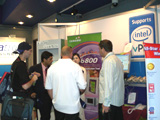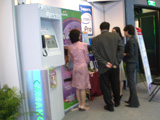 CamangiWeb800 software, created by Camangi, provides value added web page services, using outstanding audio compression technology that instantaneously transforms voice into ordinary audio files, allowing communication through HTML web pages. Through these web pages it is able to spread any kind of information to consumers, allowing web page communications between non members and members, unaffected by bandwidth. The CamangiWeb800 one click communications function can be combined into eDM , e-mail and electronic bills, as well as be applied to community operations and as a global communications platform for businesses, allowing all customers and employees to use communication services with ease and comfort.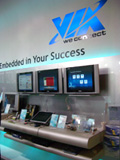 With the launch of this value added web page service, the managing director of Camangi, Mr. Hou Er Ren, has announced that Camangi Web800 provides businesses with specialized B2B and B2C communications service lines, moving one click connectivity onto web pages. Businesses do not need to change their model of using traditional telephone lines, but can also make use of the Camangi Protocol Gateway to directly connect to their main lines, while directly connecting to local telephones, mobiles or extensions, thus broadcasting an even more complete set of information to clients. Businesses can respond to customers with product information in less time, which makes the technology a form of initiative marketing. In addition to saving communication costs for companies, it also creates value added services on web pages, bringing forth a huge business opportunity for companies!
Companies as well as the general public attending the exhibition can view live demonstrations of the eMiss Operator model, using a one click connection on touchscreen computer monitors, simulating searches made by visitors, and experiencing the ease of use and excellent audio quality of its communications. This model transfers traditional main line operator functions onto computers, saving the cost of hiring an actual live operator, and allowing more flexible deployment of manpower. It can also be used for Internet businesses or local and overseas companies to communicate over web pages, allowing customers and employees to take advantage of the web page one click connectivity function for communications, remaining in control of information transfer at all times.
PR contact
Janis Lee janis@camangi.com
Director of Sales & Marketing Dept.
Camangi Corporation